Minimalistic Home Accessories for a Calm Space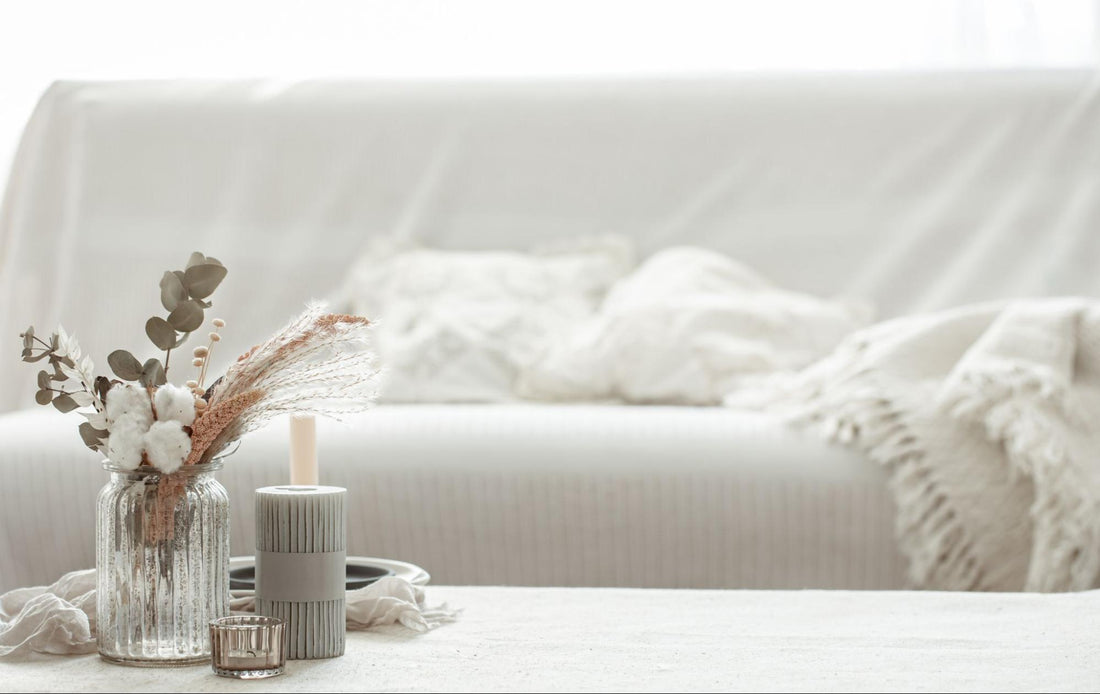 Simple, functional and uncluttered. Neutral décor and rustic homeware allude to the great outdoors and rugged Scandinavian landscape…
Scandinavian Simplicity in Simple Steps
When it comes to creating a serene and inviting atmosphere in your home, Scandinavian simplicity is the key. This design philosophy, characterised by minimalism and functionality, has taken the world by storm. In this article, we will delve into the world of modern minimalist home accessories and explore how you can transform your living space into a calm oasis.
Minimalism in Interior Design
Minimalism, in the context of Scandinavian design, is like poetry for your living space. It is a harmonious blend of simplicity, clean lines, and a monochromatic palette, with colour serving as a striking accent. It encompasses an open floor plan, abundant natural light, and furniture that prioritises functionality, all while highlighting the shape, colour, and texture of only the most essential elements. 
In this design philosophy, a muted colour palette takes centre stage, and texture is introduced through a diverse range of materials such as timber, glass, pottery, cloth, and canvas. Minimalism marries form and function seamlessly, often achieved by infusing rich textures into everyday home accessories, transforming them into both aesthetically pleasing and practical elements of your living space.
Colours That Paint a Serene Picture
Close your eyes and picture a palette that mirrors the tranquil Nordic landscape. Can you see it? Forest greens, burnt oranges, dusty pinks, pastel blues, gentle greys, and crisp whites. These colours set the stage for a world of calmness and visual bliss.
The Elegance of Minimalistic Home Accessories
In the world of home accessories, the smallest details can make the biggest impact. These carefully curated elements have the incredible power to transform a space, adding personality, style, and functionality to your home. Whether you're looking to infuse a touch of elegance or embrace a specific design aesthetic, home accessories are your secret weapon. The possibilities are simply endless. Let's explore some minimalistic design home accessories ideas. 
Battery Operated Lamps
Picture this: you walk into your room, and the soft glow of battery-operated lamps fills the space. They're not just sources of light; they're works of art. Sleek, cordless, and elegantly designed, these lamps add a touch of modern whimsy to your sanctuary. ➡️ Find your lighting inspiration. 
Candlesticks
What's cosier than a candlelit evening? Candlesticks, with their timeless charm, infuse warmth and intimacy into your space. Opt for sleek, minimalist designs to complement your Scandinavian dreams. Scented candles, anyone? ➡️ Find Your Candlesticks Inspiration
Cushions and Throws
Your cosy clouds! Your dreamy Scandinavian sanctuary isn't complete without cushions and throws. These fluffy delights in neutral colours and soft materials invite you to snuggle up on a lazy afternoon. Pure bliss. ➡️ Find Your Cushion Inspiration
Faux Plants
Nature without the hassle? Bringing nature indoors is a Scandinavian signature move. Faux plants offer all the green goodness without the need for a green thumb. Choose minimalist planters to keep things neat and uncluttered. ➡️ Find Your Faux Plants Inspiration
Flowerpots
If you're a plant whisperer, flowerpots and planters are your canvas. Fill them with live plants, breathing life and vitality into your space. Keep it simple and elegant, just like a dream. ➡️ Find Your Flowerpots Inspiration
Hurricanes/Lanterns/Tealights
Imagine a starry night indoors. Hurricanes, lanterns, and tealights are your enchanting companions. Their soft, flickering glow will transport you to a world of hygge – the Danish concept of cosiness. ➡️ Find Your Lanterns Inspiration
Functional Kitchenware
Even your kitchen can join the Scandinavian dream party. Choose kitchenware with clean lines and minimalist designs. These items not only serve their purpose but also contribute to the overall aesthetic. ➡️ Find Your Kitchenware Inspiration
Styling Items Adding Personality
Styling items are the finishing touches that bring your dreams to life. Bowls, trays, and vases with character and grace add a personal touch to your dreamy sanctuary. ➡️ Find Your Home Decor Accessories Inspiration
Wall Lights
Picture walls adorned with battery-operated wall lights. No complicated wiring, just pure, dreamy illumination. These lights are like stars guiding you through your nightly reverie. ➡️ Find Your Lighting Inspiration
Browse Lily Pad Home Accessories
For all your dreams of a minimalist haven, Lily Pad Home Accessories is your magical gateway. Whether you're giving your home a complete makeover or adding those final touches, our curated collection will make your dreams of tranquillity a reality.
In the End, It's a Dream Come True
Remember, Scandinavian simplicity isn't just about decorating; it's about creating a dreamy world within your own four walls. With modern minimalist home accessories, your space becomes a haven of serenity, elegance, and pure enchantment. Let your home be a dream come true - contact us today.