Choosing the Best Home Accessories for a Productive Environment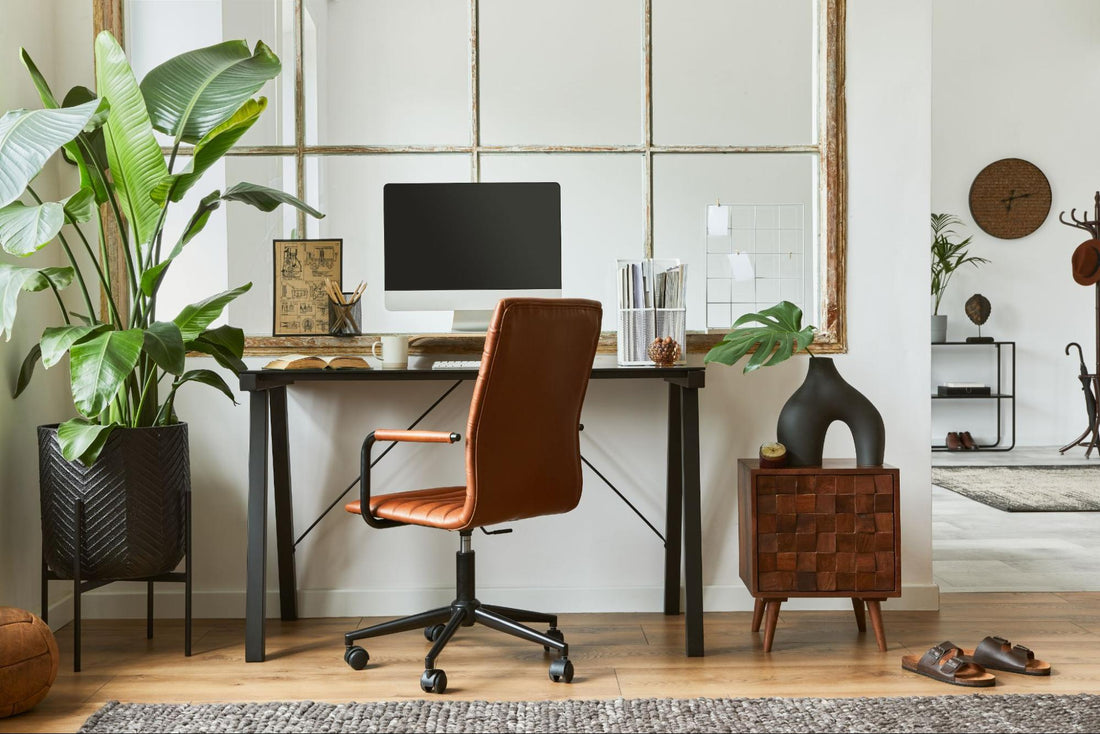 Not long ago, working from home seemed to be a privilege only a few could have, but in recent years, many of us have shifted to home office only. Check out our hand-picked home office essentials and some fun work-from-home accessories to make your space functional but also special and fun. Remember, one of the main advantages of a home office is that it does not have to be a boring grey cubicle but a personalised space showing your personality and style!
Workspace ideas & Tips to Optimise your Space for Productivity
Any basic computer and desk set-up can be improved with a bit of creativity. A good home office space is personal but not distracting, usable and comfortable. These are some of our favourite workspace ideas for home and home accessories for a productive environment.
Make it comfortable

: A good office chair is at the top of our

home office essentials list

. Splurge on an ergonomic chair and desk pad before you get anything else – comfort means productivity! Modern

home office accessories

include Bluetooth headphones, hands-free mics and footrests designed for smaller spaces and ideal for a

productive environment

.

Remove distractions:

Simple workspace home décor

should be interesting but not distracting. A good tip is to remove any external items and ensure you have everything you need so you don't have to interrupt your flow. For example, you can get a simple laptop stand with built-in storage so that you can keep all chargers close. A streamlined design keeps focus intact.

Use all your space

: You can choose fold-up tables or add storage fixtures or shelves to upgrade your HO. A colourful rug can delimit the working space and create a unique atmosphere without needing walls. Use your wall space for an inspiration board or add

home décor accessories

vertically, such as

battery-operated wall lamps

or hanging planters, so you don't clutter your desk.

Think of the function

: You can add a splash of colour with potted succulents or other

small workspace home décor

items as paperweights, or choose a fancy planter or small vase to hold your office supplies. Remember: functional does not mean boring!
The Best Home Office Accessories for a Modern Office Space
Hand-selected home décor accessories will transform your home office into a place you love and change your mood. No matter how big or small your office space is, the right pieces will make your space unique and motivate you to work and feel better.
➡️ Check out some of our favourite home office decorating ideas and get inspired!
Potted Plants
Did you know that adding potted plants to your office space can increase productivity by 15%? Plants are a serotonin machine! Adding a small potted plant with a pretty planter can improve your mood and help you feel relaxed. Don't worry if you don't have a green thumb; artificial plants work just as well. You can choose between several types of planters, vases and plant hangers according to your HO size and add this simple and modern workspace home décor for a magical green touch.
Colour Palettes
Cluttered, uncoordinated spaces can be overwhelming and disorganised. We recommend you stick to a colour palette and choose your home office accessories accordingly – but don't worry, it does not have to be white! Modern workspace home décor is all about personality and harmony. You can go for a bright, inspiring green vibe or a sleek, rich touch using dark or jewel tones. And if you cannot find your favourite home accessories online in the exact colour you like, don't be afraid of a bit of DIY! You can turn a simple magazine filer into a statement piece with a bit of paint or stick-on paper.
Rich, Calming Light
A proper desk light is essential, but a secondary light source is a home décor piece to spruce up any small workspace. Candlelight has calming effects, and scented candles can help you focus and relax. If you are weary of using candles, hurricane candles and LED lights come in a wonderful array of colours and shapes and can be a fun work-from-home accessory for every mood.
Comfortable Ambience
A rich, soft rug, a plush pillow or a cosy throw blanket are not only décor pieces but a necessity for a long work day, especially in winter! You can add a personal touch by adding these home décor accessories to your office in your favourite shades. A separate set of comfort items for your office will help you get on the work mindset and be cosy while working.
Personal Expression 
Art prints, copies of your favourite photos or simply a fun piece you like – home décor accessories have a place in a home office. If you want to incorporate some oomph and personality to your HO without feeling overwhelmed, you can choose items with a similar palette or feel. Do you want to put up pictures, but the colours are distracting? You can filter the images before printing to match your design!
Your home office doesn't have to be mundane. After addressing the essentials, infuse character by incorporating select pieces. Curate a space where productivity meets creativity, and your workspace becomes a thriving hub.
Check our
online shop
for the best home office accessories that resonate with your unique style.